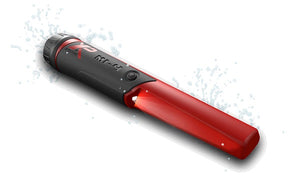 The new MI-6 Waterproof Pinpointer Metal Detector has a wide range of innovative features compared to other products currently on the market. Use by itself or along with the XP DEUS metal detector:
1. Audio signal is transmitted directly to the DEUS via radio link.
2. Interference suppression system between MI-6 and DEUS.
3. Lithium rechargeable battery with long battery life.
4. Waterproof down to 6 meters.
5. LED, vibrate, audio and sensitivity adjustments when the pinpointer is used as a stand alone item (not connected to the Deus).
6. When connected to the DEUS allows further advanced levels of adjustments via the DEUS menu including: 50 levels of sensitivity, adjustable tones, 2 audio modes, battery level indicator, programs, MI-6 recovery mode - find a lost MI-6 even if it has been switched off for several weeks.
7. Fast one touch pairing between the MI-6 and the DEUS.